Windows of Light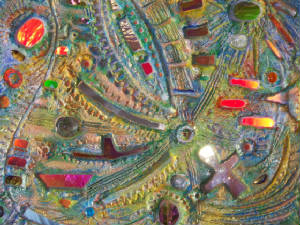 Stained glass & light enhancement

Special Order
Installations & Enhancements
Enhancements of small stones like agate, quartz crystal, amethyst, turquoise and hematite. Colored glass globs or marbles are available. You can mix or match any these items to be installed into the artwork you choose.
Reflective stained glass or mirror enhancements are available. You can mix or match these items to be installed into the artwork you choose. Shape and size will vary depending on size, design and layout of artwork. All glass is hand cut.
Fine colored sand in many colors can to be used in the recessed areas of your custom artwork. It gives the work a sand painted look. Colors chosen will be used throughout the work for balance and contrast.
We offer a 11"x 11" maximum mirror size of any shape installed in the center of a bigger canvas. Mirror will be installed with approximately one inch of sculpted medium on canvas (lip) covering the mirror. Custom frames can have larger glass or mirror installed if picked up at Art Studio.

Metallic highlights of gold, silver and copper can be applied to the surface of the painting. These are waxed based finishes. Highlights applied to each work surface will be reflective.
Lighting enhancements use Premier Canvas with stained glass installed over hand cut portals (windows). Fluorescent bars (corded) or battery operated diode lights installed inside for a beautiful lighted work. corded fluorescent Windows of Light are brighter than battery operated diode lights.
Corded light fixtures are more involved work. Minimum canvas size for "Windows of Light" is 18 x 24. Larger works can accommodate more lighting fixtures inside the work. Please inquire about custom installations of light work and type wanted. Solar are available for outdoor patio and sun lit areas.
Layout and design of all enhancements & installations ordered are strictly the choice of the artist, unless special instructions given and approved by artist.
Please indicate which enhancements you want installed, including how many of them on your custom painting, panel, frame or vault.